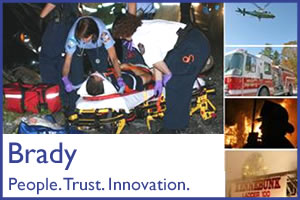 Welcome to Bradybooks!
For over 30 years, Brady has been publishing educational materials for the EMS community. Behind this is our core mission to provide quality content for students and professionals in both EMS and Fire. We're committed to all the people we've proudly served—those who were educated by us, and those they help everyday. In everything we do—It's About People. Trust. Innovation.
Essentials of Fire Fighting and Department Operations 6e!
Continuing the tradition of excellence in firefighter education, this new, expanded version contains the complete 20 basic chapters, as well as additional chapters including first aid and hazardous materials response to meet all of the requirements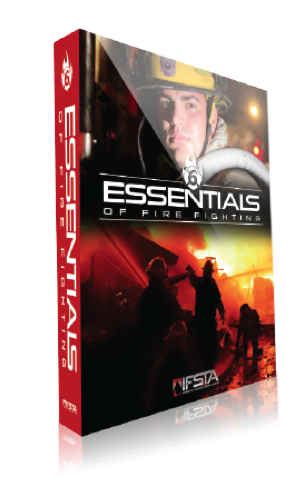 for Fire Fighter I and II levels of NFPA 1001® and NFPA 472® and OSHA 1910.120. This overhauled new edition offers a complete support package and includes updated information on 192 skill sheets, knot and rope requirements, the use of essential job tasks related to the medical requirements in NFPA 1582®, and more! Begin laying the foundation for your firefighting career now with this expanded version
Click Here to view a sample of chapter 6
Click Here to view a sample of chapter 10
Table of Contents

Chapter 1: Orientation and Fire Service History
Chapter 13: Tactical Ventilation
Chapter 2: Firefighter Safety and Health
Chapter 14: Water Supply
Chapter 3: Fire Department Communications
Chapter 15: Fire Hose
Chapter 4: Building Construction
Chapter 16: Fire Stream
Chapter 5: Fire Behavior
Chapter 17: Fire Control
Chapter 6: Firefighter Personal Protective Equipment
Chapter 18: Loss Control
Chapter 19: Fire Origin and Cause
Chapter 7: Portable Fire Extinguishers
Chapter 20: Fire Protection Systems
Chapter 8: Ropes, Webbing, and Knots
Chapter 21: Fire and Life Safety Initiatives
Chapter 9: Structural Search, Victim Removal, and Firefighter Survival
* Chapter 22: Emergency Medical Care for Fire Department First Responders
Chapter 10: Scene Lighting, Rescue Tools, Vehicle Extrication and Technical Rescue
* Chapter 23: Hazards, Behavior, and Identification of Hazardous Materials/WMD
Chapter 11: Forcible Entry / WMD
Chapter 12: Ground Ladders
* Chapter 24: Mitigating Hazardous Materials
Pearson Partners with San Francisco Paramedic Association
Pearson Partners with San Francisco Paramedic Association for On-Scene and On-Line Training Program. -- Understanding how the body works during a medical emergency, and performing a concise yet complete diagnostic assessment, depends on the ability to ask the right questions, and perform the right procedures, at the right time. Emergency Medical Patient Assessment, Care & Transport (EMPACT), offers a practical, integrated approach to the full range of adult medical emergencies.
Published in earlier editions as Advanced Medical Life Support, EMPACT's authors Alice L. Dalton, RN, MS, NREMT-P; Daniel Limmer, AS, EMT-P; Joseph J. Mistovich, MEd, NREMT-P; and Howard A. Werman, MD, FACEP, have newly revised and updated the program to conform to current practice and the 2010 American Heart Association guidelines. Click here to read more.
Sneak Preview - Emergency Care 12th Edition

Click here to view a sneak preview video!
Click here for a virtual tour!
Click here for the audio book!
For courses in Emergency Medical Technician Training, Emergency Medical Services.
Emergency Care, Twelfth Edition, has set the standard for EMT training for over 30 years. Updated with the latest research and developments in emergency medical services, this edition meets the 2010 American Heart Association guidelines for CPR and ECC, providing all the practical information students need to succeed in the classroom and in the field. Using the National EMS Education Standards as a foundation, this edition goes beyond the Standards to provide the most current, accurate reflection of EMS practice today. Getting students to think like an EMT, the text integrates scientific principles in a way that's easy to understand, and a host of critical thinking features—including a new chapter, "Critical Thinking and Decision Making," —helps students learn key concepts while getting a dose of the reality of being an EMT.
Resource Central access code packaged with the text!
Resource Central is a single source for online chapter support materials and teaching resources. Included are multiple-choice questions, case study activities, animations and videos, virtual tours, skills checklists, and more! For instructions on how to access this site please refer to the access code card that comes packaged with the student textbook.
MyBradyKit is an online online resource that offers a wealth of tools to help student learning and comprehension. All you need for student SUCCESS and program management is found inside MyBradyKit. Click here to see our MyBradyKits!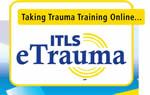 ITLS eTrauma covers the eight hours of ITLS Provider classroom instruction, training you on the core principles of rapid assessment, resuscitation, stabilization and transportation of trauma patients. Read more about the program in this downloadable PDF.
International Trauma Life Support (ITLS) is a global organization dedicated to preventing death and disability from trauma through education and emergency trauma care.